QBurst Named Technology Vendor of the Year
November 21, 2014
Pioneer Motor Bearing awarded us with the 'Technology Vendor of the Year' award. Jeremy Bardet, Systems Development Manager at Pioneer, presented the award during QBurst team's visit to the Dreamforce event held at San Francisco in October.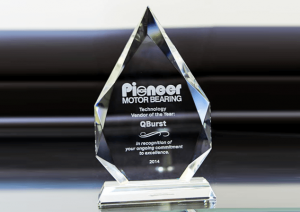 Pioneer Motor Bearing provides bearing engineering, manufacturing, and repair expertise to original equipment manufacturers and end users. Our client since September 2013, Pioneer enjoys Salesforce customization support from QBurst. We support their Salesforce instance with Apex code, Triggers, and other Visualforce page modifications.
"I'm very impressed with the way you were able to understand our complex needs and quickly take action", commented Jeremy Bardet on our team's effort. This award, which is a token of their appreciation, will serve to motivate team members to continue with the same level of commitment.