iSurvey – Property Inventory Management App by QBurst
June 21, 2012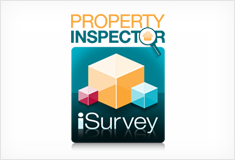 QBurst has developed a mobile application for real estate owners worldwide to simplify their lettings inventory management process. This mobile application enables the user to gather data on the contents and condition of a rental property. Once the inventory process has been completed, it is published to iSurvey's website where the user can view the report online and print a hard copy. The application, iSurvey Property Inspector, is developed to work on iPhone and Android platforms.
iSurvey Property Inspector generates a simple, accessible and informative report output, containing a detailed room by room description of the property's condition, supported by photographs. For ease of reference, a summary of any changes in contents or condition that have occurred during a tenancy is provided in the Check-out report. When a Check-in Inventory has been generated at the start of a tenancy on the smartphone, the same content can be uploaded to the smartphone for the Check-out Inventory at the end of the tenancy. Equally, future Check-in and Check-out reports can all be based on existing content, reducing the time required to generate the reports. Tenants can verify the information and confirm using digital signatures.
QBurst developed the Android application from scratch, using Android SDK. We have also redesigned and upgraded the existing iPhone application, and added new features to the web interface where owners login to view reports.
Some key features of the application are:
Integrated photo captures
Unique database of commonly used inventory words and phrases
Customization of dictionary contents
Digital signatures
Email reports directly to clients
You can download the iPhone app from App Store and Android app from Google Play. For more information or test drive, visit the iSurvey website.